You can catch Tony playing at the following dates & venues:
Regular events
Tony and friends from Grape Jam, Martin & Anna Peers, have started up a new Acoustic Jam session on the 2nd Thursday of each month at The Old Stillage in St George. The Old Stillage can be found at http://oldstillage.com/ and does a fine range of

beers and ciders, including locally brewed Arbor Ales. The session is open to all singers and musician and listeners. Audience participation encouraged and requests taken! We take it in turns to "lead" a song or tune. All styles from folk, blues, pop, rock, rock'n'roll etc. Vocal mic and a couple of small amps provided to plug into if required. Starts 9pm. Come along and join together with the band....
Folk Around Fishponds: every 2nd Tuesday of the month in the upstairs function room at The Cross Hands, 1 Staple Hill Rd, Fishponds, Bristol, BS16 5AA. Starts asap after 8pm. Lots of car parking on nearby streets - Straits Parade, Downend Rd, Staple Hill Rd or Fishponds Rd itself. All welcome - singers, musicians and audience! All acoustic, lots of different styles of music - not just folk! Cost £2/£1 concs. See www.faf.moonfruit.co.uk . For pub details and location see www.thecrosshandsbristol.co.uk
Gig diary
2012:
Sunday 14th October: Pill Music Festival. Pill Super-Sessions. From 6pm. See http://pillmusicfestival.com/
Saturday 13th October: Pill Music Festival. Dave Totterdell Memeorial "Choruses by Candlelight" Concert. From 7pm. See http://pillmusicfestival.com/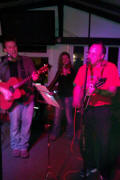 Thursday 20th Sept: Beeses Open Mic Nite. From 8pm.
Sat 15th Sept: Fishfest 2012 (afternoon). Fishponds' very own community festival. See www.fishfestevents.org or for more info email Fishfestbristol@gmail.com
Thurs 13th Sept: Acoustic Jam at The Old Stillage (see regular events)

Tues 11th Sept: Folk Around Fishponds (see regular events)

I'm also available for gigs and events, either solo or with my band Grape Jam. Just drop me a line!
Tony