My introduction to music came I guess from my upbringing - in Neath, South Wales. The Land of Song it was indeed, and still is, and the best bits of school assemblies were singing hymns - in both English and Welsh - though I admit I didn't understand the Welsh songs, just singing by rote. I wasn't a great singer (an

d many may say nothing much has changed there....!), though I enjoyed it. My dad played the piano at home, mainly "old favourites" and jazz - very much played "by ear" - which has transferred down to my playing. My dad's claim to fame was, whilst on National Service, playing in the same jazz band as Matt Munro - then of course known as Private Parsons.
I never really enjoyed music lessons at school though, them being mostly classical-based memory lessons, so didn't actually start learning how to play an instrument properly until I was about 16, when I bought my first harmonica - the cheapest instrument in the shop! The harmonica I still class as my main instrument and the one I feel most comfortable with. I started learning the guitar whilst at university in Bristol, again a second hand guitar from a local charity shop, with an action that cut my fingers to bits. But I persevered - suffering for my art...

I'd written poems and songs however from much earlier, and I still have notebooks with my early efforts - many of which make pretty painful reading now - teenage angst, love (what I knew of it) and puerile teenage humour! I still find the writing of new songs the best bit of being a musician - creating a new song and then finally getting round to performing it in public (possibly to some applause) is a wonderful thing. In 2005, I eventually got round to recording a selection of my old and new songs with my musical friends Dave Hares & Dave Hooper - then also fellow members of The Swampmen. This was recorded by Dave Hares' on his infamous Hermit Studios 8-track analogue recorder, which is still going strong (touch wood). You can listen to some songs from this CD "Things Are Like They Are" on the My Music page.
Musical influences
While at university, my musical influences were the new wave/ punk songs of that time (late 70's, early 80's)

punctuated by pop favourites such as Elton John, Abba (oh, Agnetha!), Supertramp and the like. The folk music revival was around too, with Ralph McTell's "Streets of London", and Bob Dylan & Neil Young in their prime. Songs by Bob & Neil still are stalwarts of my repertoire today, and probably always will be. The Clifton Folk Festival in 1978 introduced me to the breadth of "folk music" like Bristol shantyman Eric Illott, 5 Hand Reel, Nic Jones & Dick Gaughan. Irish music via The Dubliners, Chieftains and others was getting popular too, and I loved it - I suppose obligatory as an O'Hare!
I started playing in folk clubs sporadically during the 80's - trying out the Nova Scotia Folk Tradition Club, which then was very traditional, instruments frowned upon! It's now transmuted into the wonderful Nova Scotia Folk Club, which I frequent as one of my regular musical haunts around the Bristol area. I moved for a few years to Plymouth in the 90's, playing in acoustic & jam sessions in pubs there, then back to Bristol in 1995.
My other musical favourites include a number of singer-songwriters including Van Morrison, Mary Chapin-Carpenter, Jackie Leven, and the wonderful Louden Wainwright III. If I was to try to describe myself to others I'd aspire to "a Welsh Louden Wainwright".
Bands & friends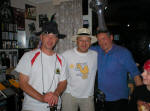 Apart from playing solo, it's a great joy playing & singing with other musicians, not just because you play different types and styles of music, but it's also what music to me is about - people - not just sounds on a record - that's folk music!
From 2002-3 till about 2005, Dave Hares, Dave Hooper & myself played together as "3 Men Off a Bike", which later became The Swampmen - for more info & music to listen to, see The Swampmen website. Lately I play with friends Martin & Anna Peers as Grape Jam, so called because we got together at an acoustic jam session at The Grapes Tavern in Clifton around 2007. Check out the cracking acoustic jam session we run at The Old Stillage in St George every second Thursday of the month. See Gigs & Events page for more details.
I also now help run the wonderful Folk Around Fishponds club each month - again see Gigs & Events page.
My music has given me some great times over the years. I hope you enjoy listening to, and finding out more about my songs. If you want to contact me - for general purposes or to invite to play at your pub, club or festival, please contact me.
Cheers!